The Poor Quality Education: Another Looming National Security's Bobolebobo By Kwaku Adu-Gyamfi "The majority of students in our
The Poor Quality Education: Another Looming National Security's Bobolebobo
By Kwaku Adu-Gyamfi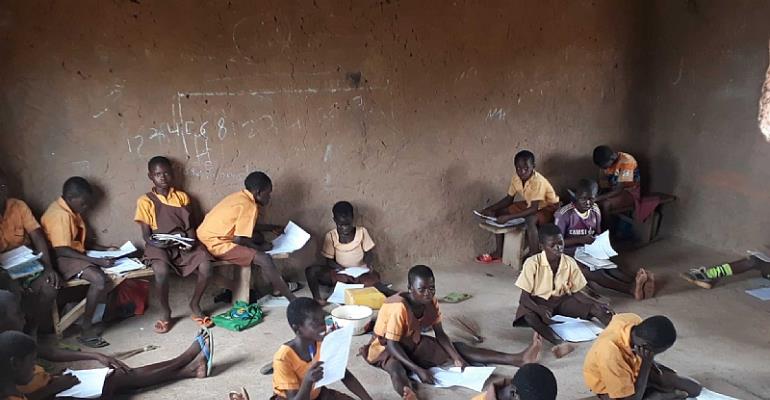 "The majority of students in our JHS and SHS cannot read or write"— and, that is our bobolebobo!
IT HAS BEEN A ROUGH week in Ghana—where were the professional prophecies disciples when we needed them? Obviously, this is not the best time to talk about the maladies of our education system.
Thanks in part to the menzgold's saga and other public insecurity issues; every other issue in Ghana now has been pushed into the backseat of the national conversation. Because their effects have registered so high on the Richter's magnitude scale.
It looks like we cut loose of a gigantic fart in the midst of people of whom we respect so much—and we pretend as if nothing has happened and we go about our businesses ,but the odor and guilt would stay with us .
Nevertheless, we just need something to numb our pains and frustrations—yes, we need something more exhaling , less confrontational and a healthy debate, for a change.
This an open secret: We all know very well that since the introduction of the a 3yr-JHS and SHS system, things are not the same in our education's ecology, but tragically, we're acting as if there is nothing wrong with that, and going about our businesses, while patronizing the out- of- control examination malpractices—please don't put me in any political strait-jacket here.
However, there is a cause for concern because the proliferation of our low standard of education is gradually morphing into a national security issue that needs an immediate attention. This issue is so severe and deadly that it cannot and should not be left to our educationalists alone.
Listen to this true story: Last year a family member went to one of our local hospitals just for a routine check –up. She was seen by a doctor and medications were prescribed to control and manage her sudden and unusual blood pressure rate.
To make a long story short, she walked across the road to the nearest well-stocked private pharmacy. The prescription was handed to — a young lady—"the pharmacist" in charge, while the patient decided to buy a bottle of water from next door. She came back within minutes and picked up the medicine, which was supposed to be a regular BP control medication.
The juicy part of the story: For whatever reason, the victim has formed an 'unusual' habit of using her phone to Google for information on any medicine she takes or buys—please don't ask me why! And she surely did it again instantly at the pharmacy store. Upon googling it up she found out that the medicine in her hand was meant for people with severe mental disorder— lunatics, who cannot function without Prozac. Holy Cow! She freaked out, shaking like she has been electrocuted.
She confronted the store attendant about the mishap, but she began to cry and beg for forgiveness. Apparently, she gave her a wrong medication. She apologized and gave back her prescription slip. Her money was refunded as well and the young lady took back her medicine. The victim took off, very confused, worried and began to feel very; very vulnerable .She wonders how many people could have lost their lives due to being taken wrong medicine.
The question is: How many of us would Google for information on medications we consume every day? And, how many of us would ask for the drug -store attendants' qualifications before we buy drugs from them?
This brings us to the substance of this piece: The entire nation is peppered with some JHS and SHS students who cannot read or write. Oh yeah, we have free SHS education, but our students' reading and writing skills are going down the drain drastically—this is the gospel according to the GES.
Folks, the jury is out and the finding is nothing to write home about—"the majority of our students in JHS and SHS cannot read or write".
Now get a load of this: Adom 106.3 Fm recently published an article on a survey the Ghana education service did in the Kwaebibriem district— Eastern region— to gauge the reading and writing proficiency of JHS and SHS students. It came out with the finding that "more than fifty -percent of the students in that category in the district can neither read nor write".
The dangerous part of this story is that Kwaebibrim district is not the only district in the country that has a patent on this terrible or deadly 'educational deficiency'. Some students in other part of the country are also victims—to say the least. So in effect, this is a national security issue; therefore it should be treated as such—something needs to be done about it, ASAP.
Oh yes, if fifty- percent of our students population in JHS and SHS can't read or write then it's no more an educational issue .Imagine some of these students paid their way out through nursing training schools and ended up in Korle-Bu teaching Hospital(or any other hospital) as ward attendants ;taking care of people—just imagine!
Imagine again when some of these students ended up behind driver's seat of articulated trucks on our accident-prone and pot –holes infested roads– bobolebobo!
The funny thing is that the stakeholders of this issue attributed the reading and writing 'deficiencies' on "inadequate reading materials for the students". Excuse me! .Let me see if I got it right: "Inadequate reading materials" in Ghana in 2018? I wonder what we were reading back in the late seventies and eighties when even portable table-top printers or portable phones were not even part of our vocabulary.
By the way, if our JHS and SHS students cannot read or write how did they get there to begin with? It speaks volumes of our condescending attitude towards education.
"But this is too simplistic". Oh, really? Thanks for telling me. But, don't get me started!
Oh heck, let me dive right into it:
What do you expect from our students when the average parent in Ghana spends only 3.5 minutes per a day in a meaningful conversation with his /her kids?
What do you expect when we and our students have developed self-induced amnesia, sense- of- entitlement syndrome and pathetic whining disorder?
What do you expect when too many TV stations in the country have been hijacked by 'religious groups' to peddle their special oils and other cockamamie services and products that supposed to cure any imaginable diseases or problems? How many hours do we spend to watch TV programs that do not bring us any intellectual divided?
We can't even find solutions to our emerging problems in our communities and schools, yet we have devoted the major part of our media resources (air waves) to recycle the 'deliverances' and 'testimonies'.
Apart from politics,'christianity' ministry is now regarded as the fastest career path to upward mobility. However, It amazes me how our students cannot read or write while ninety- percent of TV licenses have been hijacked by churches and other religious establishments to promote their leaders, who claim to have a speed- dial to God(or should I say 'god'?) .
Are you there? I know I have lost many of you already. Haven't I?
The super-sensitive ones among you are probably having a very severe heart- attack from this piece. But please retract your claws and take a chill pill. This is a challenging time in Ghana.
The point is, can you imagine if many of these TV stations were turned into educative and knowledge reservoirs to encourage learning in our communities and schools? What about the establishment of town libraries in every community? No, I am not interested in your truck load of excuses because that is all we can do.
Well, looking at this issue critically, there are more questions than answers. But, I will rather concentrate on the solutions.
No time to waste. So let's stop the second-guessing and soul-searching and find solutions. In these challenging times we need to deal with this issue unconventionally if we want better results.
The fact is, to increase reading and writing skills for our students there is a need to get all the stakeholders involved. I'm talking about the parents, students, book publishers, booksellers, authors and writers, department of education , teachers and district assemblies —they all have to roll up their sleeves and design some incentives: Awards, rewards and other measures to encourage, force, entice and persuade students to turn off the TV, put the phones down and grab a book. The one thing I like about reading is that the more you read the better you can write.
We can even top it off with a (NRH) national reading hour. Why not? Most workers in Ghana take more than one hour lunch break, so why can't we introduce 30 minutes reading time every day as part of the lunch break ?It's much better than goofing –off and working on lottery numbers or whatsapping and face-booking during working hours at work places.
Speaking of acquiring knowledge, since the Chinese are going to be with us for a long haul, the Ghanaian government should take the opportunity to close the information gap. Our schools and colleges should set up more Asian studies centers to close the knowledge and information gap because they know more about us than we know about them—and that is a sign of 'handicap' right there.
To have a fair trade with them, we need a leveled playing field and that comes when we know more about them. Yes, they're busy studying everything about us, including our negative impulses, taste for material things and big appetite for corruption. We have practically allowed them to get access to our mental chromosomes, so we just consume whatever they put on the table—literally.
I have probably made you mad and therefore lost most of you but what is wrong with these ideas? One thing: They probably make too much sense!
Unfortunately, we have stubbornly clutched to our dream of 'the end -justifies -the -means', but the end result is very dangerous so let's move our students and our future leaders from tears to cheers!
The truth must be told: This nation can't be the useful part of the 21st century if fifty –percent of its students' population in JHS and SHS cannot read or write .
I'd like to leave you with this: The possession of quality education does not necessarily guarantee wealth, nor does wealth always guarantee power. But lack of a quality education can guarantee poverty and poverty always guarantees powerlessness.
Until we meet here again. Stay tuned, be educated, informed and blessed.
BY Kwaku Adu-Gyamfi
(voice of reason)
Disclaimer: "The views/contents expressed in this article are the sole responsibility of the author(s) and do not neccessarily reflect those of Ahafo News. Ahafo News will not be responsible or liable for any inaccurate or incorrect statements contained in this article."