Prof. Kwabena Frimpong Boateng In what could best be described as a clear case of conflict of interest and double standards unbefitti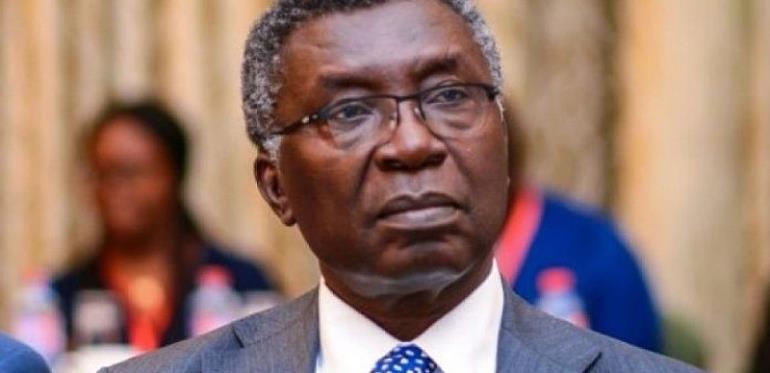 Prof. Kwabena Frimpong Boateng
In what could best be described as a clear case of conflict of interest and double standards unbefitting of a minister of state, Minister of Science, Technology, Environment and Innovation, Prof. Kwabena Frimpong Boateng, stands accused of representing the interest of his own private mining firms.
Documents (published) available indicates that in a letter dated 20th Nov, 2014, the head of the Inter-Ministerial Committee on Mining, Prof. Frimpong Boateng, acting as Director of Symphony Ltd, wrote to the Minerals Commission that he wanted to maintain his Adomesu and Baabiaraneha Mining Concessions in the Brong Ahafo Region.
Prof. Frimpong Boateng told the Minerals Commission through his Symphony Ltd that he wanted to shed off three of his concessions and work on the two mentioned.
The three concession are Gyapakrom, Nwenem and Asiri lots. The Minerals Commission, in a letter signed by Peter Awuah, the Deputy Manager of Minerals Titles dated 15 April, 2015, told Frimpong Boateng that, he should take steps to make payments of the Annual Mineral Rights fees in respect of the Baabiarabeha and the Adomesu lots.
Peter Awuah added that Frimpong Boateng's application had been accepted, after a review by the Commission. Strangely, while Frimpong Boateng was writing and signing as Director of the Symphony Ltd, Free Press investigations showed that he was at that material moment not a shareholder of his Company Symphony Ltd.
A transfer deed made on the 10th January 2014 indicated he was no longer a Share-holder of Symphony Ltd., though he still represented himself as a Director in a letter dated 20 November 2014. (See Deed of transfer attached on pages 6 and 7) Dr. Yaw Frimpong Boateng, Agnes Frimpong Boateng and Peter Yaw Badu are some of the names on the Symphony Ltd company details when this paper checked with the Registrar Generals department.
Speaking to the Free Press in an interview, Mr. Kweku Pentsil, an anti-corruption activist, questioned why the chairman of the inter-Ministerial Committee on illegal mining and his family had mining concessions.
"While it is not illegal to have a concession, this is clear case of conflict of interest, how is Frimpong Boateng going to check his own company when he is going round closing others? A responsible Minister should have recused himself from the position or declared his interest in those mining concessions. Elsewhere this is case for prosecutors to look into. Also, I have been wondering why the Inter-Ministerial Committee never went to the Brong -Ahafo region, is it not curious that in the region Frimpong Boateng has his concession, his task force have never been there ? Why should Brong Ahafo be left out? Mr. Pentsil queried. I challenge Frimpong Boateng that if he claims his concessions are clean, he should send the Taskforce and operation Vanguard to his site now," he dared the Professor of Medicine.
Meanwhile, our deep throat sources in operation Vanguard have also detailed the deliberate attempts by some members of the Inter-Ministerial Committee on illegal mining to clamp down on their activities at the Brong-Ahafo region. "We know the illegalities happening in Brong Ahafo, we took major steps to address it only to be shot down by powerful sources with the IMCIM. I have all the memos we wrote here with me requesting for logistics to attack illegal mining operations is Brong-Ahafo, but we were denied. I know it is deliberate and I know why those people do not want us to look at activities in that region," the Operation Vanguard man fumed.
Strangely, when the free press checked on the authorized business or the nature of object, of Synphony limited, it stated that it was dealing in general merchants and trading as importers and exporters of general goods
There was also an addition of farming and manufacturing representatives. This is contrary to the rules and regulations at the Registrar General, it is deceitful for a company to conceal its intention to mine and represent it with import and export, and farming, the law is very clear on the lead to be specific in stating the nature of object. "i will alert the senior registrar of companies why Synphony limited decided to deceive us on their nature of business", said a senior person at the Registrar-General .
Find documents attached below: